Nowadays copper bathroom sinks have become quite famous. Most home owners prefer to install copper sinks to bathrooms due to the immense benefits they offer. Some may say that copper sinks mean a lot of maintenance and they are not economical to the pocket of the customer. But, it's not the truth. Copper sinks need a normal attention and a few tips to keep in mind. Proper use of the sink and paying attention to the patina can keep it shiny and clean forever.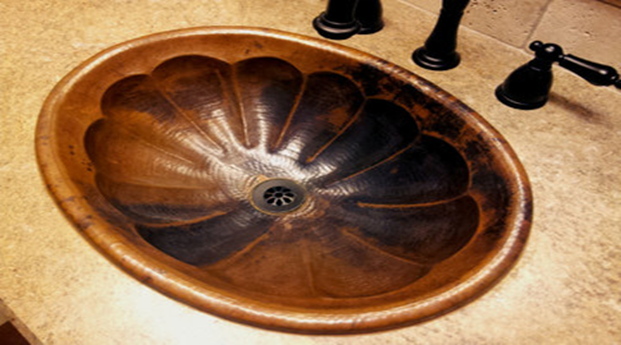 Copper bathroom sinks are attractive
Copper is a valuable metal. Using bathroom equipment made of copper is another way of giving a glorious finish to your home. It's like an ornament to the whole house. The fine glow of copper illuminates the entire bathroom and makes the bathing area very attractive. Using a copper bathroom sink is a rare luxury since it's a little expensive. So, it's like a decorative item with all its carved designs.
No stains and no scratches
Copper being a living metal re-patinas with the age. Even if staining takes place, they automatically vanish in the natural renovation process. Similarly, scratches are recovered in a few days when the patina repairs itself. For instance, if you happen to stain the sink with a bit of toothpaste, you don't have to worry about that. In a few days the stain will be no more.
Low risk of microbial infections
Copper has an antimicrobial element. It kills germs and keeps your bathroom safe and sound. If you need to keep it a sanitary area you must use a copper bathroom sink in it. The immense germ-killing power of copper destroys any micro-organism in several hours.
The wide range of designs
There's a style for each and every person to choose between. Availability of such a lot of styles is a plus point. Carved sink designs are very common these days. They come in various shapes and sizes. Square shaped, round shaped and oblong-shaped ones are more familiar among the folks.
A Mexican hammered copper sinks is a pretty, little celebrity to any bathroom. They are excellent, hand-made products anybody could trust. When you buy a copper bathroom sink, you must go in for Mexican hand hammered products. They are good-looking, comfortable and economical.