Looking for a leather sofa can be a daunting task, specially if your needs and requirements are very specific. A few parameters you need to consider when shopping around: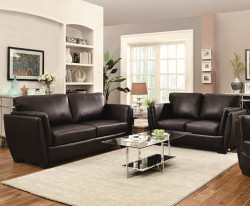 Is it natural leather or synthetic?
We all know that natural leather is the best choice for most of our needs.
Is it the color exactly what you are looking for?
Something you have to be very careful because you want a piece a furniture that blends in your room accordingly to your main home decor theme.
Is it the size what will fit in your room?
Even when you might like a big piece of sofa, your room will dictate the final space you have for the sofa.
Is it under budget?
Of course that is what shopping around is for, isn't it?
Is it made in the USA or is it imported?
Generally speaking the ones made in the USA will have better craftsmanship and durability, but also fit into the higher price range.
Another important factor to consider is to look up for leather sofa on sale, which will save you a few hundred dollars, specially if you can find something within your budget and does not compromise too much your requirements. If you live in the Long Beach or LA area there are a few options to consider, but Caravana Furniture has proven to be an one-stop furniture store for most of your home furniture needs. Caravana Furniture is located at 238 E. 10Th St. Long Beach, CA 90813 and serving the counties of Los Angeles, Long Beach, Orange and the Valley in general.